Robb Ryder
Fri, Dec 21, 2012
Subject: Beating Foreclosure Fraud
www.MorningLiberty.com
Ro.. helped a friend put in a civil action against a foreclosure in Cook County IL home of Chicago.. While in the chancery division submitting their new case , Ro asked if she could see the chancery side files of the foreclosure submitted by the plaintiff … gave the clerk the case number, and he retrieved the file..
Not sure if these documents would be found in the law side of the case or not… have a look.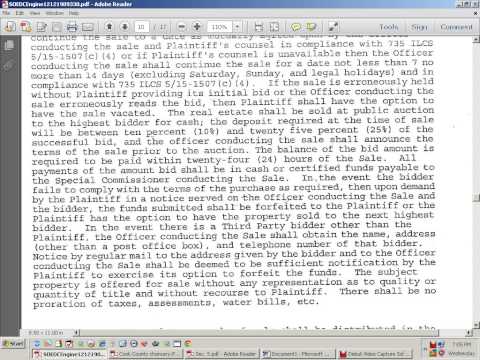 according to the clerk of court for Cook County in 2008… over 2,000,000 cases were filed.. and they have over 1 billion electronic court records…. (about 4 min into the video below)..
If you can help keep the lights on:
ashleyrytlewski@gmail.com (paypal)
and thank you in advance.
RobbRyder:
courtofrecord@aol.com
You can find my other research at:
http://robcourtofrecord.wordpress.com
Ezekiel 45:9
New Living Translation (NLT)
Rules for the Princes "For this is what the Sovereign Lord says:
Enough, you princes of Israel! Stop your violence and oppression and do
what is just and right. Quit robbing and cheating my people out of their land.
Stop expelling them from their homes, says the Sovereign Lord.
Related Articles:
Tags: Accept the Deed, Foreclosure Fraud, Foreclosure Sale Officer, Judgement of Foreclosure and Sale, Land Court, MERS Crimes, Mortgage Fraud, Order of Default, Party Defendants, Revocation of Deed of Trust, Ro Finds Chancery Side Foreclosure Instruments, Robb Ryder, RobbRyder, Summary Judgement, Voluntary Dismissal