The Freedom Blog continues to release the truth. Alex Jones sure looks like a detractor to me, according to this Video Clip. Barry Soetoro's haircut shows the Pentagram, in the back of his head in another Video clip here.
Why would Alex Jones crash a Pro Gun Rally in Austin this last January on the 25th? Alex Jones publicly said he would not be speaking at this event. This Video Clip shows the disruptor that Bill Cooper told us, Alex Jones truly is. Who does Alex Jones work for? Diversion Tactics are used by Alex Jones, to accomplish what? Is Alex Jones working for the Freedom Movement or is he only a Detractor?
Freedom Blog
Subject: Alex Jones IS COINTELPRO « Blog of Freedom
Date: Wed, 11 Aug 2010
www.morningliberty.com
Watch Alex Jones at work. He is over soon.
Here's a GREAT video that illustrates the level of ego, self importance and complete and total COINTELPRO prickishness Alex Jones really has.
Go check out this video RIGHT NOW. Excellent work folks. Alex shows up and crashes a 2nd Amendment rally in Austin (that either didn't invite him or stroke his ego enough for him to show up) with about 6 of his employees and then goes on and on about how much a success the rally was due to the throngs of his listeners that came. The video doesn't lie people. I don't want to sound like Alex Jones here, but his actions here totally smack of being COINTELPRO tactics. Alex has the louder voice here, and more money, but not as much as Glenn Beck (who he is SO jealous of right now…) so it's great that this kind of stuff is popping up to combat his own brainwashing shite he uses on his sheeple fans.
Whoever made this video We Are Change Austin, really awesome job, keep up the good work of documenting the complete idiocy and paranoid descent of Alex Jones.
Posting the video since the more places it's in, the more people might see it.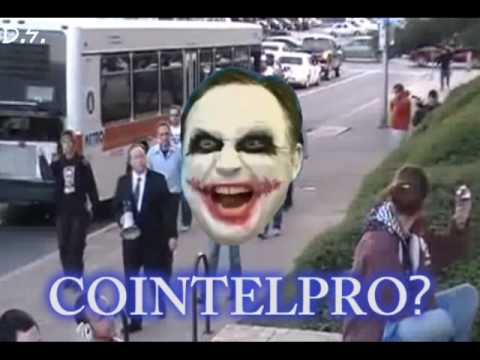 And here's another version that's less edited and WAY more obvious of how much of a dick Alex is.
And yet another… lest you think someone is pulling editing tricks.